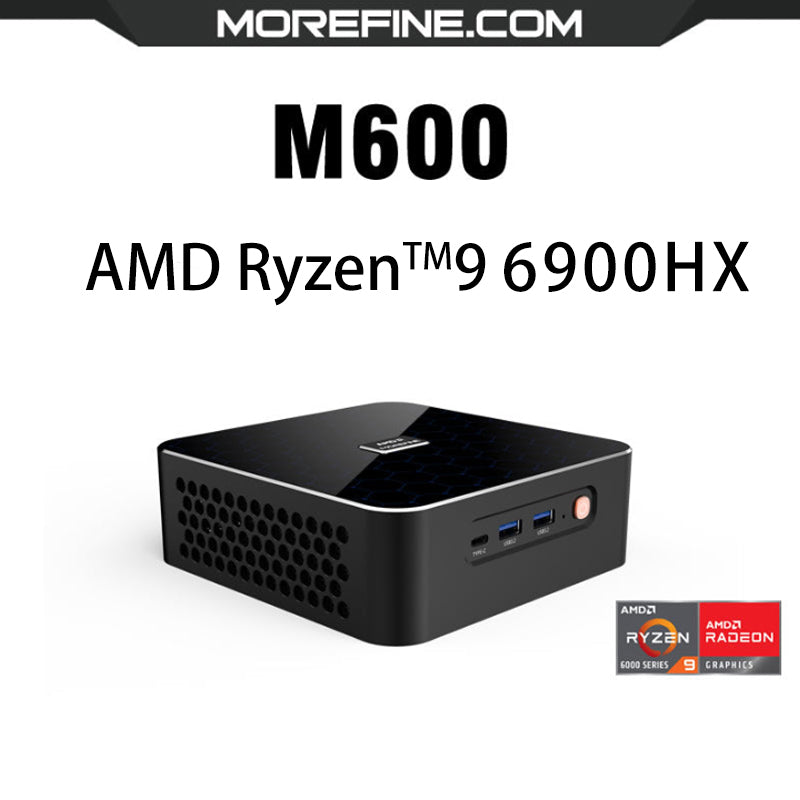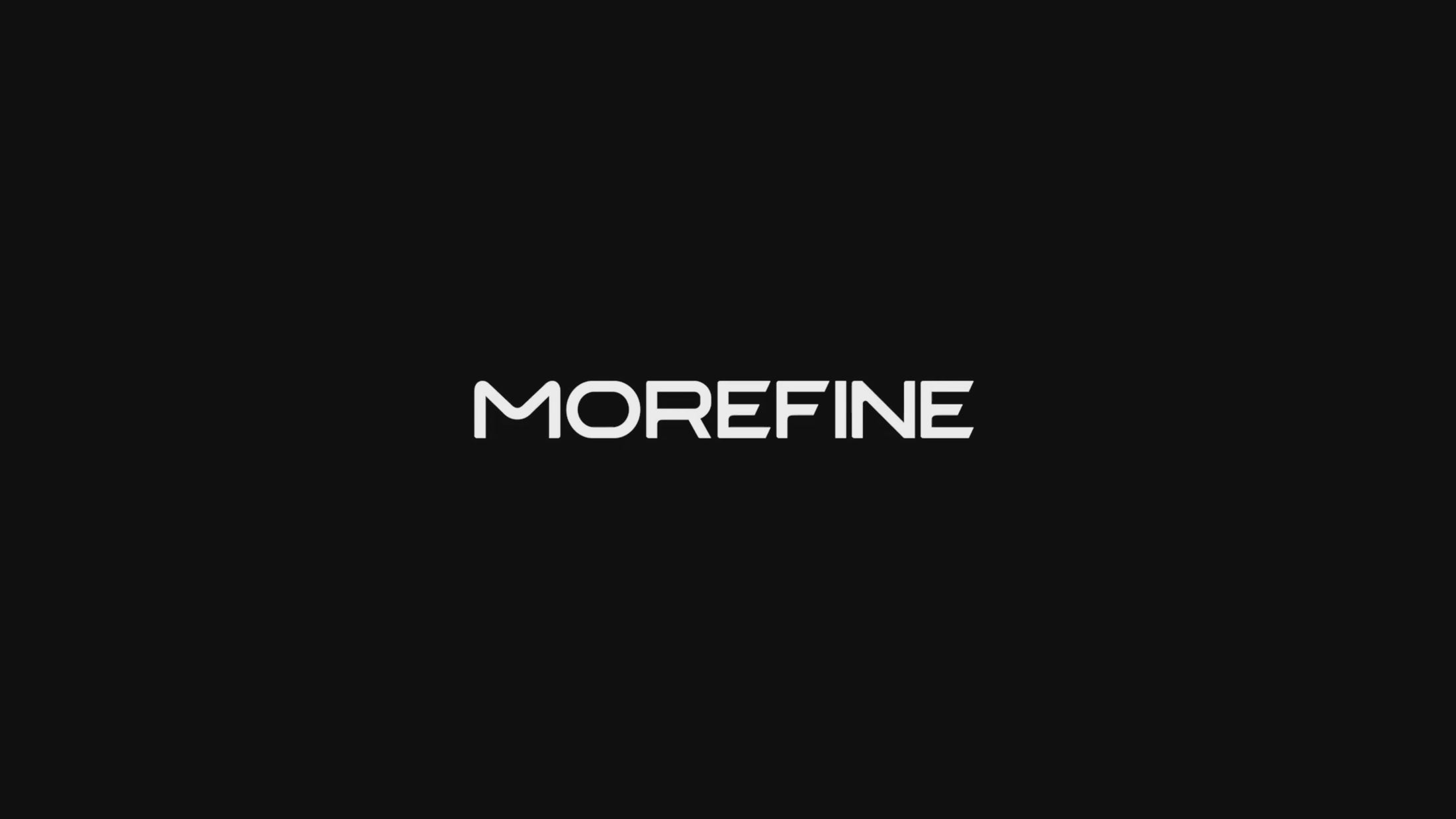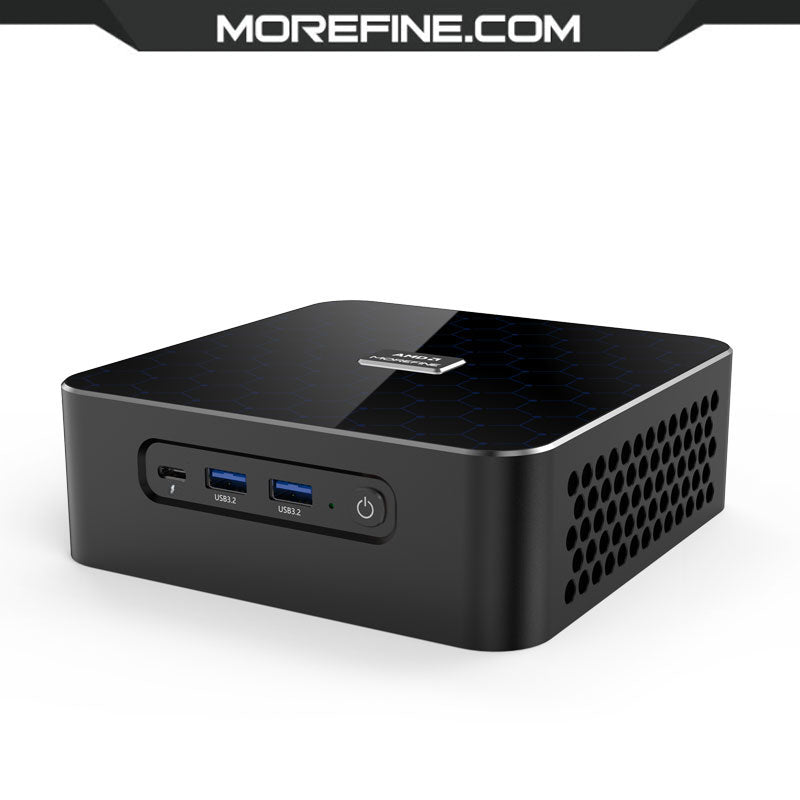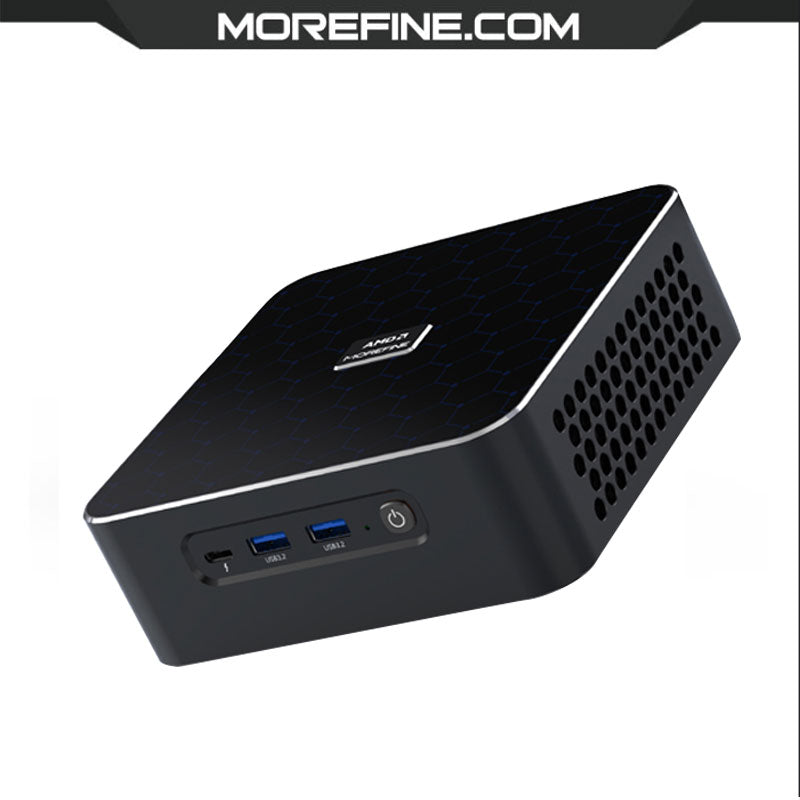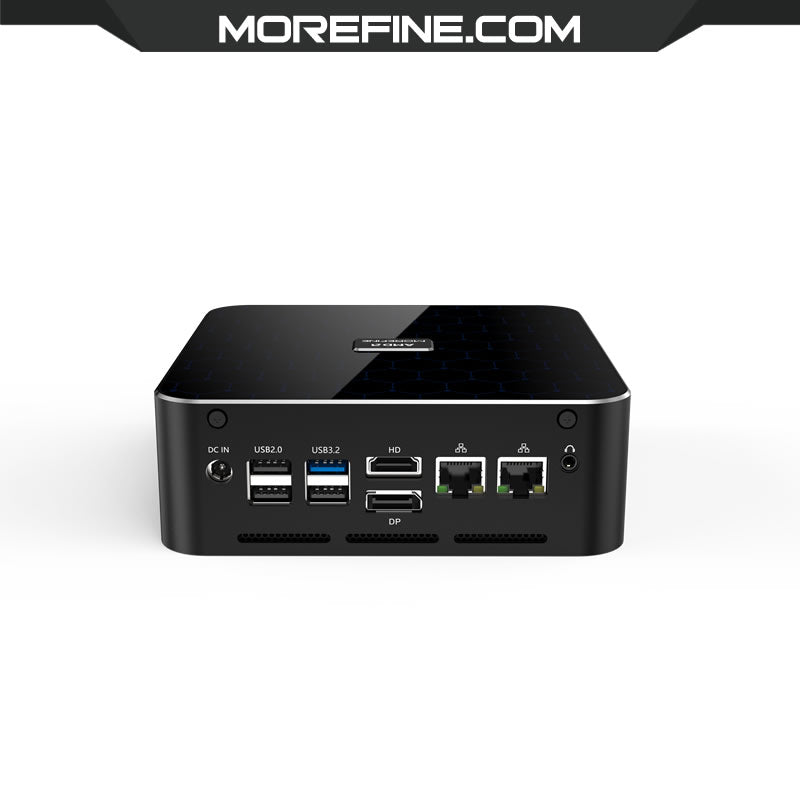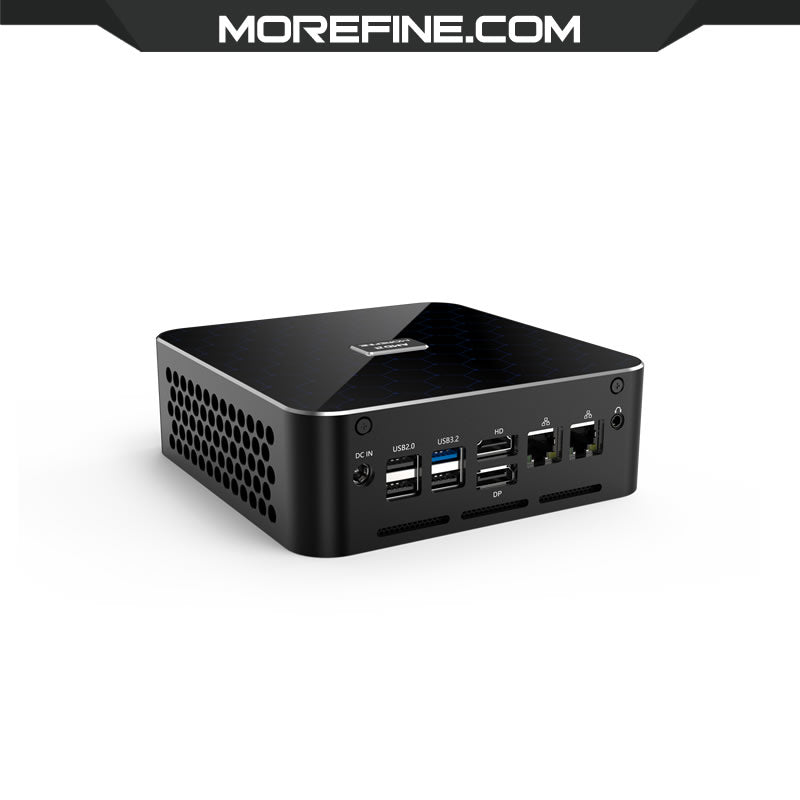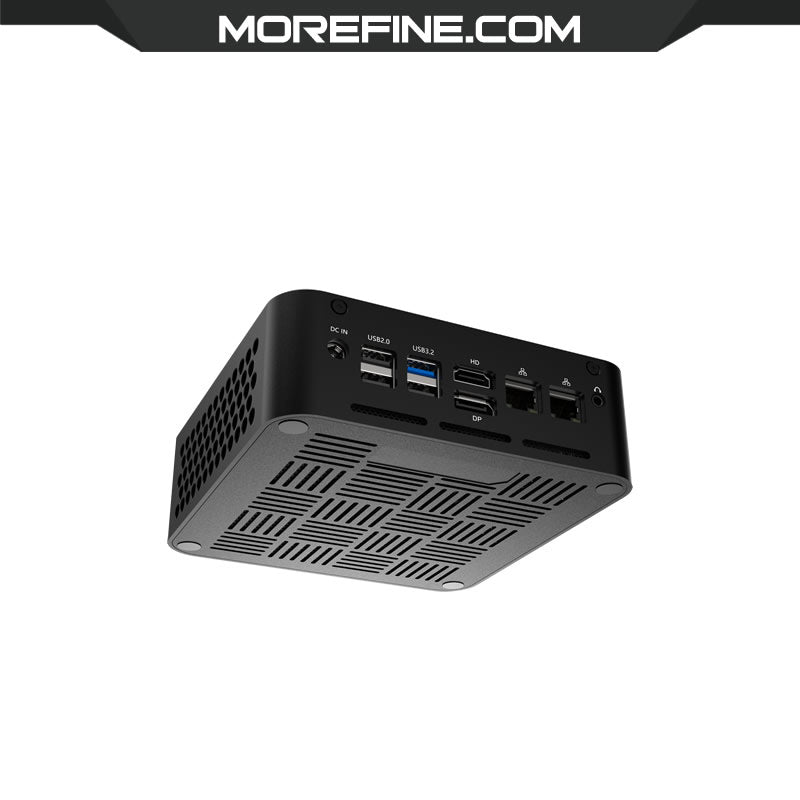 Morefine M600 Mini PC AMD R9-6900HX
Model:
32GBDDR5 RAM+1TBPCIe4 +RZ608
Tip: This website is the only official site of Morefine. We do not authorize any other sites to sell Morefine products. Please identify carefully and buy with caution!
The S500+ latest Bios 11.03: 
https://drive.google.com/drive/folders/1WNAnXvBfTaGUcwRBkmOIvtcDHzjHh2Dz?usp=sharing
M1K/M1T Driver.zip:
https://drive.google.com/file/d/1giyKWYDtmba6aS8i_jzIMTL17_cOprpr/view?usp=sharing
M6 Driver.zip:
https://drive.google.com/file/d/1YAqJsYlH0CL7FU4rOtcD_ZMPCdfxdfm9/view?usp=sharing
Download Auto-Detect and Install Updates for Radeon™ Graphics and Ryzen™ Chipset Drivers for Windows®
https://www.amd.com/en/support
Q1:Can the S500+ be used with an external graphics card?
Yes! The M.2 interface supports the same PCIe signaling used by external graphics cards, and can be extended with a cable and dock (not included). Please operate under the guidance of professionals. Learn more :https://youtu.be/-ZhtCdU3oVA
Q2:What operating systems come with S500+?Multi-OS Supports?
S500+ Come with Windows 10 PRO Pre-install,In addition to the bare-bone version.without OS systems.you need install by yourself.
S500+ Supports Windows 10,Windows 11.Linux .Ubuntu .
Q3:Heat dissipation solution
We used thermal simulation data to design a professional-grade pure-copper heatsink with dual heat pipes, which we mate to the CPU using 12W/mK high-thermal-conductivity thermal grease. Combined with our new intelligent "tidal cooling system" and a large-diameter, low-noise fan, we can achieve efficient fan control and heat dissipation to run faster and reduce noise.
Q4:What is the after-sales service?
We offer a one-year warranty. If you have any problems with your mini-PC, please contact our technical support: service@morefines.com
Q5:Will the Mini PC be shipped to my country? Am I responsible for taxes and duties in my country/region?
FREE Shipping!About taxes, We take sea freight or express delivery .sea freight to our warehouse in each country and then delivery is not required to bear customs duties, express delivery is required to consult the corresponding country's policy. We cooperate with logistics companies in the United States and Europe and other countries have cooperative warehouses, the vast majority of countries are not required to pay customs duties.
Q6:What I/O interfaces are available?
2*USB 3.2 Gen. 2 type-A
4*USB 2.0 type-A
1*USB 3.2 Gen. 2 type-C
2*RJ45 LAN (1*2500M-RTL8125BG + 1*1000M-RTL 8111H)
1*HDMI2.0
1*DP1.4
1*DC-IN
1*3.5mm audio output jack
Q7:Is it possible to overclock the CPU TDP?
The BIOS allows for you to control fan speed and power consumption, supporting TDP 45-54W operation.
Q8:How to adjust GPU power consumption?
In order to maximize the release of performance, if you do not need too high power consumption or still want to improve power consumption can be adjusted in the following way: boot up and press the Delete key, and then select advanced--AMD CBS--NBIO COMMON OPTIONS--SMU COMMON OPTIONS--SYSTEM CONFIGURATION.
But we strongly discourage non-professionals to adjust power consumption, please be careful!
Q9:How many monitors can be connected at the same time with the highest resolution output?
The machine can be directly connected to 3 external monitors: one via HDMI 2.0, one via DP 1.4, and one via USB type-C. The maximum resolution is 4K @ 60Hz. Four or more monitors can be accommodated with the help of other external devices.
Q10:About noise,How to adjust Fan speed ?
The size of S500+ is only 149*145*40mm, the volume is very small and has perfectly utilized the internal space, in order to ensure good heat dissipation our fan speed is properly adjusted, if you want your machine to be quieter you can adjust the fan speed by the following way: boot up and press Delete, then ADVANCED--AMD CBS--NBIO COMMON OPTIONS--SMU COMMON OPTIONS--FAN CONTROL under adjust the fan speed.
Q11:Can I power the machine from the USB-C port?
It is possible to power the machine from a USB-C power supply, but the USB Power Delivery (PD) 3.0 specification provides for a maximum of 100 watts (20V @ 5A), which is less than we recommend. To guarantee system stability under heavy load—and especially if you raise the TDP—we recommend a 120 W power supply, meaning either the supplied AC adapter, or a USB-C power supply that exceeds the PD 3.0 specification (20V @ 6A).
Q12:RAM &SSD Description
The official brands of memory used are as follows:
SAMSUNG(DDR4 2666MHZ/3200MHZ), Micron (DDR4 2666 MHZ), Lenovo (DDR4 3200 MHZ)
The official brands of SSD used are as follows:
Kingston,Micron,HP,WD,ADATA
We promise to use only first-tier brands of DDR4 and SSD as standard, and the above brands are shipped randomly to ensure the original and genuine products.
Q13:About Bare-bone Suggestions for use
Currently more than 95% of the brands on the market can be supported, please give preference to international brands such as SAMSUNG, KINGSTON, Micron,Lenovo, WD, HP, ADATA  for more stable performance.
If you buys the DDR, SSD installation and finds no boot screen, the fan turns but the power light does not light up, the probability is that the DDR, SSD is not compatible, it is recommended that customers follow the recommended brand to buy the corresponding accessories.
Q14:What Alloy casing + CPU and hard disk insulation Design?
Aluminum alloy shell is more conducive to heat dissipation, this originated from the design of Apple notebooks.
CPU peripheral devices covered with high-temperature insulation mylar, to prevent the risk of short circuit.
Comes with 2.5 inch hard drive insulation protective sticker to prevent the hard drive from contacting the motherboard device when installed to cause a short circuit.
Q15:What is the maximum resolution or refresh rate for the HDMI & DP &Type-C ports?
HDMI & DP &Type-C ports Maximum resolution can support 4K :4096×2160,
HDMI & DP &Type-C ports Refresh rate:60hz   HDMI 2.0 ports max to 120hz.
Q16:Are there thunderbolt ports?
AMD no supports thunderbolt ports
Q17:WiFi has been compatible on the following models. 

Intel 3165, Intel 7260, Intel AX200/AX210. 
Q18:.The models that RAM has tested are as follows: 
Samsung DDR4/3200MHZ/2666MHZ Magnesium DDR4/3200MHZ/2666MHZ Lenovo DDR4/3200MHZ/2666MHZ Kingston DDR4/3200MHZ/2666MHZ RAM capacity of 4G 8G 16G 32G are compatible 
Q19:Support ECC RAM? 
YES. S500+ Support ECC RAM,
But compatibility requirements are higher,  and cannot be used casually.
Q20:How to setup the bios for automatic power? 
We have 2 way to setup the bios for automatic power,according what you model. 1)if your S500+ Short press to power on,that Press the Delete key continuously to enter the BIOS at power-on, Advanced-AMD CBS-FCH Common Options-Ac Power Loss Options-Ac Loss Control: Alwats off means turn off the power-on self-start function, Always on means turn on the power-on self-start function.
2)if you s500+ need Long press to power on,Then it needs to be done by jumping the bubble.
Q21:How to setup the bios for increase video memory?
Advanced--AMD CBS--NBIO Common Options--GFX Configuration--iGPU setup UMA_SPECIFIED--UMA Frame
toller Rechner
Dieses Gerät erfüllt die Erwartungen komplett, funktioniert super !! 😁😃😊
M600 ON STEROIDS
The M600 is the only Mini-PC I've seen so far that offers two M.2 NVMe 4.0x4 slots and usable cpu-cooler mount points. I'm sure the following implementation voids all warranties, but it provided me a small gaming\workstation PC 7.5" X 7.5" X 16.25" that sips power. The M600's design provides access from the bottom plate to install a AOI and a ADT-Link NVMe 4.0x4 PCIe for the Nvidia 4080FE. The 4080FE is a better choice over the 4090 in this situation because of the better cooling and lower power needs. I get the high price of the 4080 is hard to bare but I guess a 4nm gpu is hard to make and a costly process. Originally I was happy with the stand-alone M600 but found the fan noise ramping up and down constantly and the graphical bug when using "Sweet Home 3D" pushed me to integrate the M600.This build can support the Nvidia 50XXFE with the 750watt server PSU and the available internal space\air flow. The M600 supports DDR5-5200 and the convenience to integrate it into a gamer that's better than most retail solutions. Using the 4080FE allows the 6900 cpu to run cooler or you can use both internal and external gpus exclusively while benchmarking, etc. Testing so far shows 99% gpu usage on the 4080. Enjoy your builds.
M600 not bad but…
I got this mini pc less than a month ago and in a matter of few days I had to replace the crucial nvme after a major system crash… the bios was not able to find the nvme boot disk anymore. Now with all Samsung nvme and ssd no issue anymore. Super fast and enjoyable to work with. Last thing is that Morfine support does'nt seems to care too much about customer satisfaction. I would have expected them to do something about the hardware failure of the crucial nvme device…..
hi,I am very sorry for not being able to reply to the message in time. Due to the increase in orders, we have arranged to increase customer service staff. For the standard configuration you purchased, we recommend purchasing a model with memory and hard disk, checking and installing the system for delivery, so that many problems in use will be reduced.
m600 silent & performant!
this thing is a great successor to the s500+.
it is just enough for most games at low settings, and it keeps silent.
CPU goes up to 4900mhz that is really something.
the GPU performance could do better if the bios would allow DDR5 speeds >4800 (there is a bios cap in there), maybe a future bios update will fix this.
supergreat tiny PC!
Morefine M600
Hi,
Over all, I'm satisfied with this little PC (little but powerful) and I'm using them most of for 3D modeling in Fusion 360
and I little disappoint about GPU issue on Fusion 360, a little trotting and frosting screen, but nothing serious (not crashing until now) .
This happen on the high rendering process of designing sketch.
I was ordered bare bone option of this model and I upgrade him with 32+32GB Kingston 4800MHz DDR5 CL38 SODIMM Fury Impact,
and Western Digital SN850 NVMe 1TB + Heatsink R/W 7000/5300MB/mb/s and work awesome!
I recommend this PC!